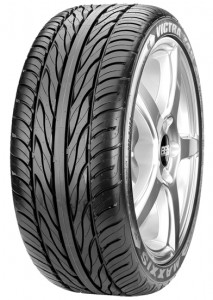 Outstanding all-weather grip combined with very low noise levels make the MA-Z4S the tyre of choice for many premium high-performance vehicles.
High speed stability – the unique V-shaped tread design with the solid centre rib ensures safe and predictable handling on all road surfaces.
Maximum traction – the advanced silica compound increases the stopping power of the vehicle on both wet and dry road surfaces and enhances handling capabilities.
Comfortable ride – the mild directional tread design with pitched tread blocks on every angle minimises noise levels to maximise ride comfort.
| Size | Load/Speed | OD (mm) | Section Width (mm) | Rim Width (inches) |
| --- | --- | --- | --- | --- |
| 205/55R16 | 94V | 632 | 211 | 6.5 |
| 235/50R17 | 100W | 693 | 236 | 7.5 |
| 245/45R18 | 100W | 724 | 244 | 8.0 |
| 245/40R19 | 98W | 747 | 244 | 8.5 |
| 255/55R19 | 111W | 765 | 254 | 8.0 |
| 225/30R20 | 85W | 645 | 231 | 8.0 |
| 225/35R20 | 90W | 665 | 231 | 8.0 |
| 245/30R20 | 90W | 767 | 244 | 8.5 |
| 245/35R20 | 95W | 673 | 246 | 8.5 |
| 255/35R20 | 97W | 686 | 254 | 9.0 |
| 275/35R20 | 102W | 800 | 274 | 9.5 |
| 275/30R20 | 97W | 798 | 274 | 9.5 |
| 275/55R20 | 117V | 810 | 284 | 8.5 |
| 265/35R22 | 102W | 630 | 272 | 9.5 |
| 305/40R22 | 114V | 803 | 312 | 11.0 |
| 305/45R22 | 118V | 833 | 302 | 10.0 |