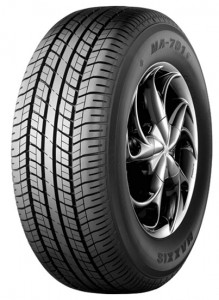 Available in a range of 70 and 80 series tyres, the MA701 provides older vehicles with safe and comfortable ride and handling characteristics.
Long lasting – high treadwear ratings.
Safe handling – straight centre tread grooves provide excellent water drainage on wet roads.
Low noise – non-directional tread design ensures a quiet and smooth ride, and allows easy rotation of tyres for even tread wear.
| Size | Load/ Speed | OD (mm) | Section Width (mm) | Rim Width (inches) |
| --- | --- | --- | --- | --- |
| 155/80R12 | 77T | 555 | 158 | 4.5 |
| 155/80R13 | 79T | 580 | 158 | 4.5 |
| 155/70R13 | 75T | 550 | 158 | 4.5 |
| 165/70R13 | 79T | 566 | 172 | 5.0 |
| 165/80R13 | 83T | 596 | 167 | 4.5 |
| 175/80R14 | 88T | 637 | 180 | 5.0 |
| 185/80R14 | 91T | 654 | 182 | 5.0 |
| 165/80R15 | 87T | 648 | 165 | 4.5 |