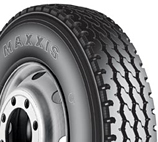 Features:
Multi-curved rib pattern design.
Advanced tread compound.
Special shoulder appearance.
Multipurpose all-axle position for both on/off road use.
Benefits:
Good driving and handling stability.
Excellent load capacity.
New special multicompound rubber that provides good breaking performance and traction.
Good wear resistance and long tread life.
Excellent cut and chipping resistance.