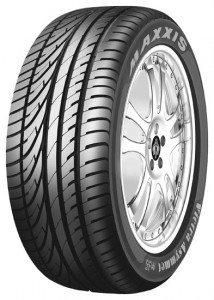 Developed to meet European demand for a whisper quiet tyre with no compromise in performance, safety, or comfort for high speed luxury vehicles, the Maxxis Asymmet M35 exceeds every expectation.
Outstanding traction – the M35's unique asymmetrical tread pattern and special silica tread compound ensures outstanding traction and control in every condition, wet or dry.
Excellent handling – superior construction combines with the asymmetrical tread pattern to provide handling stability and control in the most demanding situations.
Rim protector – specially designed rim protector to protect wheels from curb damage.
| Size | Load/ Speed | OD (mm) | Section Width (mm) | Rim Width (inches) |
| --- | --- | --- | --- | --- |
| 205/55R16 | 94W | 632 | 211 | 6.5 |
| 205/50R17 | 93W | 640 | 211 | 6.5 |
| 225/50R17 | 98W | 655 | 231 | 7.0 |
| 235/50R17 | 100W | 663 | 251 | 7.5 |
| 215/45R17 | 91W | 627 | 211 | 7.0 |
| 225/45R17 | 94W | 635 | 226 | 7.5 |
| 235/45R17 | 97W | 643 | 236 | 8.0 |
| 245/45R17 | 99W | 650 | 246 | 8.0 |
| 245/50R18 | 100W | 701 | 249 | 7.5 |
| 245/45R18 | 100W | 673 | 244 | 8.0 |
| 225/40R18 | 92W | 640 | 236 | 8.0 |
| 235/40R18 | 95W | 650 | 246 | 8.5 |
| 245/40R18 | 97W | 701 | 249 | 8.5 |