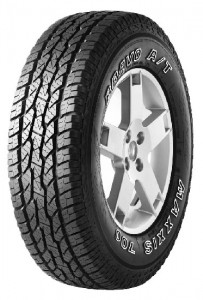 Latest all terrain SUV/4WD tyre from Maxxis, offering refined highway performance along with dependable off-road traction.
Superb All Terrain Traction – unique tread design features staggered shoulder blocks for extra bite. Great for the highway and great in gravel, mud & snow.
Superior Highway Running – toothed sipes in tread block and specially developed rubber compound provide excellent on-road braking and grip in both wet and dry conditions, and refined, quiet highway performance.
Reliable Performance – nylon cap ply extends tread life and enhances puncture resistance.
| AT700/771 | Ply Rating | White Letters | Load/Speed Rating | OD (mm) | Section Width (mm) | Rim Width (mm) | Max Load (kg) |
| --- | --- | --- | --- | --- | --- | --- | --- |
| 235/75R15 | | WL | 109S | 734 | 241 | 6.5 | 1030 |
| 205/70R15 | | WL | 96T | 668 | 208 | 6.0 | 710 |
| 30×9.50R15 | 6PR | WL | 104S | 762 | 241 | 7.5 | 900 |
| 31×10.50R15 | 6PR | WL | 109S | 775 | 267 | 8.5 | 1030 |
| 215/70R16 | | WL | 100T | 709 | 221 | 6.5 | 800 |
| 235/70R16 | | WL | 106T | 737 | 239 | 7.0 | 950 |
| 245/70R16 | | WL | 111S | 750 | 248 | 7.0 | 1090 |
| 255/70R16 | | WL | 111T | 762 | 259 | 7.5 | 1090 |
| 265/70R16 | | WL | 112S | 778 | 272 | 8.0 | 1120 |
| 215/65R16 | | WL | 98T | 686 | 221 | 6.5 | 750 |
| 235/60R16 | | | 104H | 688 | 241 | 7.0 | 900 |
| 225/65R17 | | WL | 102T | 724 | 229 | 6.5 | 850 |
| 245/65R17 | | WL | 111S | 749 | 249 | 7.0 | 1090 |
| | | | | | | | |
| 255/65R17 | | | 110H | 765 | 259 | 7.5 | 1060 |
| 265/65R17 | | WL | 112S | 777 | 272 | 8.0 | 1120 |
| 275/65R17 | | WL | 115T | 790 | 279 | 8.0 | 1215 |
| | | | | | | | |
| 285/65R17 | | WL | 116S | 802 | 289 | 8.5 | 1250 |
| 255/60R18 | | | 112H | 762 | 257 | 7.5 | 1120 |