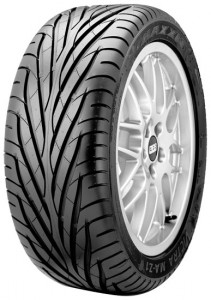 Outstanding grip, striking good looks and low noise levels at highway speeds set the MA-Z1 apart among Ultra High Performance tyres.
Exceptional road holding – advanced tread compound and aggressive directional pattern ensure utterly brilliant highway performance with class-leading grip and stopping power in the wet.
Aggressive ultra high performer – excellent cornering and handling capability ensure totally superior control in both wet and dry.
Rim protector – specially designed rim protector to protect wheels from curb damage.
| Size | Load/ Speed | OD (mm) | Section Width (mm) | Rim Width (inches) |
| --- | --- | --- | --- | --- |
| 195/45R16 | 84V | 582 | 193 | 6.5 |
| 215/55R17 | 94W | 663 | 226 | 7.0 |
| 205/50R17 | 93W | 638 | 208 | 6.5 |
| 215/45R17 | 91W | 630 | 213 | 7.0 |
| 225/45R17 | 94W | 635 | 226 | 7.5 |
| 235/45R17 | 97W | 643 | 239 | 8.0 |
| 245/45R17 | 99W | 650 | 244 | 8.0 |
| 205/40R17 | 84W | 599 | 216 | 7.5 |
| 215/40R17 | 87W | 607 | 221 | 7.5 |
| 235/40R17 | 94W | 622 | 249 | 8.5 |
| 245/40R17 | 95W | 627 | 249 | 8.5 |
| 255/40R17 | 98W | 635 | 262 | 9.0 |
| 235/50R18 | 101W | 691 | 244 | 7.5 |
| 245/45R18 | 100W | 678 | 241 | 8.0 |
| 225/40R18 | 92W | 640 | 234 | 8.0 |
| 235/40R18 | 95W | 648 | 249 | 8.5 |
| 245/40R18 | 97W | 655 | 249 | 8.5 |
| 265/35R18 | 97W | 645 | 274 | 9.5 |
| 245/40R19 | 98W | 655 | 249 | 8.5 |
| 225/35R19 | 88W | 645 | 236 | 8.0 |
| 235/35R19 | 91W | 648 | 246 | 8.5 |
| 245/35R19 | 93W | 655 | 246 | 8.5 |
| 275/35R19 | 100W | 675 | 284 | 9.5 |
| 225/35R20 | 90W | 688 | 231 | 8.0 |
| 245/35R20 | 95W | 683 | 246 | 8.5 |