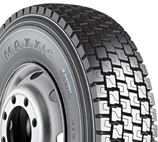 Features:
Extra-wide block and lug/extra depth tread pattern design.
Advanced tread compound.
Special shoulder appearance.
Long tread life, superior traction tire.
For on road and freeway use.
Benefits:
A flat, wide tread and special tread compound achieve a long tread life.
Special belt construction protects against cutting, chipping and impact breaks for extended casing life.
Deep tread provides excellent traction in both wet and dry conditions.
Excellent even-wear pattern.
High durability and excellent retreadability.