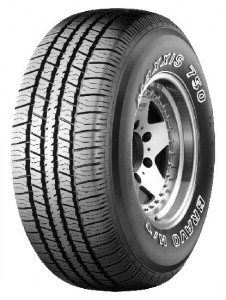 A hardworking, long wearing non-directional highway pattern for the driver who is primarily on the highway.
Excellent tyre for highway use – all season tread pattern gives a smooth, quiet ride while retaining excellent wet braking performance.
Excellent stability – extra nylon cap ply for enhanced puncture resistance and casing rigidity.
Very long wearing – treadwear rating 540 (HT760) and 480 (HT750)
| HT750/760 | White Letters | Load/Speed Rating | OD (mm) | Section Width (mm) | Rim Width (mm) | Max Load (kg) |
| --- | --- | --- | --- | --- | --- | --- |
| 225/70R15 | WL | 100S | 701 | 236 | 6.5 | 800 |
| 235/70R15 | WL | 103S | 714 | 246 | 7.0 | 875 |
| 255/70R15 | WL | 108S | 744 | 269 | 7.5 | 1000 |
| 265/70R15 | WL | 112S | 757 | 279 | 8.0 | 1120 |
| 225/70R16 | WL | 102S | 726 | 236 | 6.5 | 850 |
| 255/65R16 | WL | 109T | 739 | 259 | 7.5 | 1030 |
| 245/65R17 | WL | 107S | 749 | 249 | 7.0 | 975 |
| 255/65R17 | WL | 110S | 765 | 259 | 7.5 | 1060 |
| 265/65R17 | WL | 112S | 777 | 272 | 8.0 | 1120 |